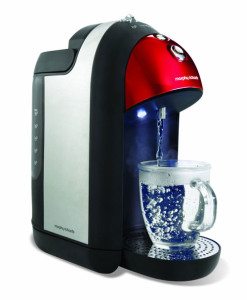 The Morphy Richards Accents One Cup 43926 Hot Water Dispenser is a high quality one cup kettle which could certainly slash your energy bills, but at a fairly high price. So is it worth the investment? The dispenser is sleek, stylish and simple to use, offering a premium hot cup experience for those willing to spend a little extra cash.
Electricity prices are rising, so the product's claim–that it uses up to 70% less energy than your kettle–is a tempting one. If you're the type of person who makes multiple cups of tea and coffee throughout the day to keep you going, then you could be wasting a great deal of money and energy boiling your kettle. The hot cup solution is a good one, but many similar products have pitfalls. There are plenty of hot cup kettles on the market that don't get your water up to the right temperature, add an odd taste to your tea or don't allow you to adjust the volume to get the correct amount boiled. The Morphy Richards Accent manages to solve these issues with all round great quality.
Rating: 4.5
Price: £££
Key Points
claims to use 70% less energy than a regular kettle
boils water in 45 seconds
lets you select your own volume of water to boil
1.8 litre capacity
2 year warranty
sleek red-accented design
Stylish Design
As hot cup kettles go, the Morphy Richards Accent does look great. It has a cool red design that adds a touch of class to your kitchen, and looks more like a high-end espresso machine with a modern, polished finish than a bog standard kettle. The kettle also matches the other products in the Morphy Richards Accent line, so it's ideal for those who already have items in this design and like to match.
Decent Speeds
The speed is good, clocking in at about 45 seconds to hit boiling point, so there's very little waiting around compared to your average kettle. These speeds are about the same as other one cup kettles, however, so this isn't where the Morphy Richards Accent One Cup sets itself apart. Where the product really stands out is in its customisable features, which allow customers to use it exactly as needed.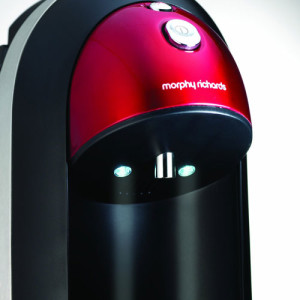 Customisation
There are other one cup kettles on the market that do the job, but don't allow you to select the amount of volume you need to boil at one time, measuring out set cup volumes that can lead to mess and over-spilling or a cup not big enough to suit your needs. The Morphy Richards product lets you select your own volume, so you can have a big cup of coffee when you need it, or boil enough for a pot of pasta, while also being able to produce smaller amounts for a teacup. A stop button allows you to halt the flow at any point if your cup is threatening to overflow, without wasting any water.
Good Heat Levels
For those that like their cup of tea steaming hot, the temperature may not be quite as piping as from a standard kettle, but the difference really is barely noticeable and any hotter would probably be difficult to drink. It's definitely more consistent in its ability to reach its boiling point than other cheaper one cup kettles, and there should be very few complaints on that front.
Large Water Capacity
The Morphy Richards Accent has a substantial 1.8 litre capacity, so it's perfect for boiling bigger quantities quickly. It also comes with a handy removable drip tray that prevents annoying mess on your counter and makes the whole product easy to clean, while ensuring that your kitchen always looks its best.
Design Issues
One minor quibble with the Morphy Richards Accent One Cup is in its design. Although, as mentioned before, it looks stylish, the slightly clouded water tank can sometimes make it a bit difficult to see just how much water is currently in the kettle. This shouldn't be a major issue for most people, but as these products are currently become more popular amongst the elderly population for their ease of use without heavy lifting, a more transparent glass would be a good finishing touch.
Should You Buy It?
The price tag is higher than you might expect when compared with other one cup kettles, but if you're happy to spend a little more you really do get a better quality product than many others on the market. The Morphy Richards Accent also comes with a two year warranty, which is useful for dealing with any manufacturing issues that you might come across. It does seem very sturdy though, and isn't likely to fall apart or have technical glitches like other one cup kettles.