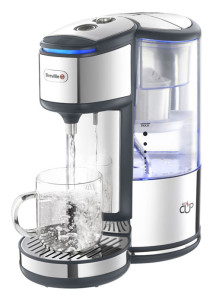 Breville has released a brand new, third generation update to its line of one cup kettles, and this VKJ367 Brita Filter Hot Cup might just be the best we've seen from the company. This Hot Cup is updated to include a range of useful new features, offering customers a convenient and intuitively designed product that should suit most people's needs.
Rating: 4.25
Price: ££££
Key Points
capacity of 1.8 litres 
boils water in 40 seconds
comes with detachable drip tray
equipped with a Brita filter
doesn't release the water until it's 100°C
offers 9 cup size options
some consumers may notice a chemical taste to the water
needs to be de-scaled frequently
Design
Something that really stands out about this new Hot Cup is its smart, stylish design. The product looks sophisticated and modern, and should impress even the most discerning kitchen appliance enthusiast. As with the earlier generation models from Breville, this Hot Cup's tank glows blue while your hot drink is being boiled, which adds a nice aesthetic touch.
The Hot Cup comes with a handy detachable drip tray to collect any spillage that might occur, which makes the product easy to clean up and prevents mess from building up in your kitchen. It also comes with a cord storage feature around the base of the kettle, which will help reduce clutter and keep your counter top nice and clear.
Convenience
The whole unit is a little awkward to dissemble to take the tank to be refilled and can be quite heavy. You may find it easier to use a small jug to collect water from the tap to fill the one cup kettle with. This is also a good option for people who struggle to lift heavier objects. The tank has a large capacity and can hold up to 1.8 litres of water at one time. If you fill your Hot Cup up in the morning it should easily give you a solid day's use.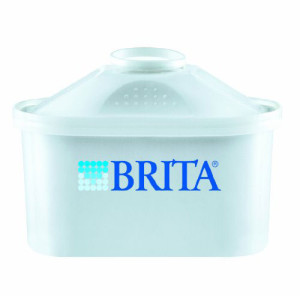 Filtration Features
The key upgrade from the last, second generation Breville Hot Cup model is in the addition of a Brita filter to the kettle. The Brita filter takes care of any bacteria, chlorine, heavy metals and hardness in your water to give you the cleanest, purest refreshment. The filter works well and should ensure that your water is always at its most hygienic, while improving the overall taste of your drink.
Speedy Boiling and High Temperatures
The Breville Brita Filter Hot Cup is definitely one of the fastest on the market. Depending on the size of the cup you're brewing, it can get your water hot and ready to go in about 40 seconds. This is faster than other premium one cup kettles, and is definitely an improvement on the earlier generation Breville Hot Cups.
Another strong feature from this product is the temperatures you'll get from it. There have been complaints with other similar products that the water isn't quite hot enough for some customers, as the kettles tend to heat up without properly reaching boiling point. This new generation model doesn't release the water until it's hit 100 degrees, ensuring that your mug of tea will always be steaming out, and never lukewarm.
Customisation
As with the second generation Breville Hot Cup, this new model gives you a range of cup sizes, nine in total, to choose from, a major improvement on the 250ml-only capability of the first generation. Some people may be frustrated that the cup size still doesn't go up to a large enough amount to boil, say, a large pot of water for cooking. You'll still need to use your normal kettle for those kinds of tasks, as this product is really designed for one cup use only. You'll also probably still need to use a standard kettle if you have guests over and need to make multiple cups of tea or coffee, but for just yourself or a couple, this product will definitely offer a convenient, energy-saving solution.
One feature that would have been a nice addition would be the option to choose your water temperature. There are other prodjucts on the market that allow you to adjust the temperature to the heat you like, while also allowing you to get ambient filtered water from the dispenser. The Breville Brita Filter Hot Cup doesn't give you quite so many options, but for your tea drinking needs it should certainly fit the bill.
Taste and De-Scaling
A major issue with the Breville Brita Filter Hot Cup is the same one that effects many of the one cup kettles out there. A strange chemical taste seems to plague these products that you don't really find with normal kettles. Breville hasn't managed to completely solve this problem on its new generation model. You'll still need to dump the first few lots of water that you boil to rinse the machine out.
Like other one cup kettles, the Breville Brita Filter Hot Cup needs to be de-scaled frequently, so be aware of this before making your purchase. Maintenance is fairly easy and straightforward so this shouldn't put off too many people, but if frequent limescale build up bothers you then you may want to consider sticking with a normal kettle.
Should You Buy It?
Overall, Breville has give us another positive set of improvements with this newest one cup kettle. The addition of the filtration system is a really useful feature that does set this Hot Cup apart from other similar products on the market. This isn't a cheap gadget, but if you enjoy making plenty of cups of tea or coffee throughout the day then it could save you a little money on your electricity bills, while bringing a smart and stylish new addition to your kitchen counter.