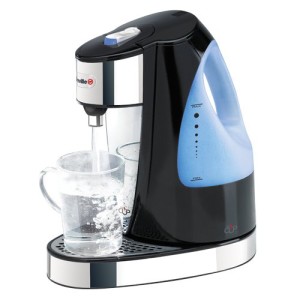 The Breville VKJ142 Hot Cup is a first generation hot water hot cup kettle with some convenient features. This product dispenses up to five cups of hot water at one time, allowing you to boil the right amount you need for the day without wasting valuable electricity and water on a full kettle that you're not going to use. As this isn't the newest model from Breville it's not the top end when it comes to one of these devices, but it does exactly what it says on the box, and is a good choice for those looking to change the way they make their tea in the morning.
Rating: 4.1
Price: ££
Key Points
boiling water ready in 35-50 seconds
dispenses exactly 250 ml of water–may be a hassle if you want to fill a larger or smaller mug
releases water at exactly 100°C
holds up to 1.5 litres of water (a 5 cup capacity)
easy to clean
the small capacity and boiling and dispensing of exactly 250ml of water each time means the product is best suited for those making single cups of tea or coffee, and not those serving large groups or boiling water for cooking
Convenient Use
The Breville VKJ142 comes with an instruction booklet to help you get it set up and going (although the process isn't at all complicated), and a one year manufacturer's warranty, so keep hold of this to make sure you can get any repairs made if problems arise.
The Hot Cup is run by a fast boil 3 kilowatt element to give you speedy hot water, but it works similarly to a kettle, so it's not at all confusing to use for newcomers to the one cup kettle game. It also features a useful drip tray at its base so any spillages can be easily cleaned up without making a big mess on your countertop.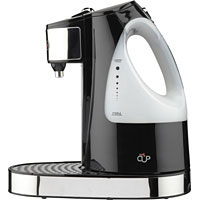 Set Cup And Temperature Size
When you load up the Breville Hot Cup, it dispenses exactly 250ml cups of boiling water, which should suit most people's preferences, although some may prefer a bigger mug at a time. It has the added benefit of producing a perfectly hot cup at exactly 100 degrees Celsius, with the water being dispensed as soon as it hits boiling point.
Decent Speeds
You can fill the kettle up with up to 1.5 litres of water at a time and then simply switch it on whenever you want your cup for a quick refreshment. The kettle stays off until you're ready for your cuppa. You then just stick your mug under the Hot Cup's spout and wait for the boil. It isn't quite as instant as the product description would have you believe: it tends to take around 50 seconds to hit boiling point, but this is certainly faster than the average kettle.
Good Heat Results
Some of the model's competitors have problems with the temperature reached for each cup of water, with slightly lukewarm results, but this hot cup consistently reaches a nice hot temperature, so you won't be disappointed on that front. You can also be sure that the water will be boiled rather than just heated up, creating a safer and more hygienic drink.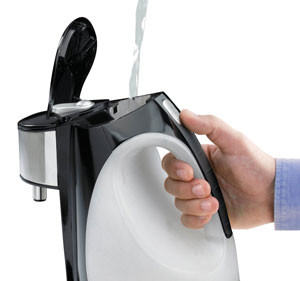 Customisation Issues
One complaint I'd have about the Breville VKJ142 Hot Cup is the lack of options when it comes to the amount of water dispensed. Although 250ml is a pretty average size for your mug, if you're using a teacup or any smaller cup, there's no way of stopping the flow of the machine to fit your mug. This can be fairly irritating when you're buying the product to prevent water wastage- as the excess ends up in the spill tray rather than in your cup. It's a minor quibble, but for those that prefer smaller cups of tea or coffee it can be an issue.
People that like to have plenty of coffee on the go during their day may also struggle with the 5 cup capacity, as the kettle has to be refilled again once you've finished your 1.5 litres of water. Having a larger capacity and an option of how much boiling water you want dispensed at any given time would also make the product more useful for cooking, as you'd be able to boil water instantly to fill a pot. Additionally, if you want to make a group of people refreshments then the hot cup isn't such a great choice, as you'll have to stand and wait for each cup to boil rather than doing multiple drinks at once. The hot cup is really the product to buy if you frequently make quick cups of tea or coffee alone, but not if you need to boil a substantial amount at once.
Smart Design
In terms of design, the Breville VKJ142 is pretty sleek: it's compact and looks good on a countertop, and the illuminating water tank glows blue when your water is heating up. You can see exactly how much water you're loading through the clear tank, and it's straightforward and easy to clean. The kettle also comes with a cord storage feature, which makes tidying up easier and reduces clutter.
Should You Buy It?
All in all, this isn't the best hot cup you'll find but it definitely does the job well enough, and all at a very reasonable price, making this the perfect product for those looking for a speedy cup of coffee without any substantial expense.