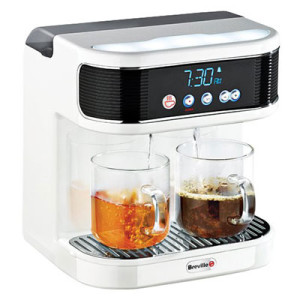 The Breville Wake Cup Hot Water Dispenser has taken an old idea and attempted to give it a modern twist. You might remember the classic Teasmade that was popular in the 1970's? Well this new device from Breville is a similar concept. The product serves as an alarm clock and one cup kettle combined, with the aim of waking you up to a nice hot drink. It's a great idea. Who wouldn't want to wake up with to a ready-made cup of tea without having to brave the cold walk to the kitchen while still half asleep? Sadly, the Breville Wake Cup has some significant shortcomings that make this product fall short of expectations.
Rating: 3.5
Price: £££
Key Points
combined alarm clock and one cup kettle
makes 2 cups of boiling water at once
boils water in 90 seconds, but it's ready when you wake
Dawn Simulator feature on alarm, waking you up gently by shining light into the room
includes flask for milk storage to keep milk cold overnight, removable drip tray, and cord storage feature
may produce water with unpleasant chemical taste, like many one cup kettles
requires frequent descaling
Design
The Breville Wake Cup is designed to make two cups of a hot beverage at once, which is a great idea for couples, and solves the problem of who will be the one to get up and get the coffee or tea. The design looks cool and modern, and the device should look trendy sitting at anyone's bedside.
Handy Alarm Clock
The Breville Wake Cup comes with some nice alarm features. You simply programme the clock with the time that you want to wake up, and it will wake you up on schedule. You can even put a battery in if you want to be sure that the alarm will function in the event of a power outage.
The clock includes Dawn Simulator features, which help you wake more gently by slowly bringing light into the room for 90 seconds before the alarm is set to ring. This is certainly a pleasant way to start the day, especially in the winter when some of us have to wake in the dark. You can also set the alarm to go off separately from the water heating system if you don't feel like a hot drink that day.
The Negatives
However, the clock itself has some irritating flaws. The main issue is in the brightness of the clock, which has an extremely strong LED light which even when dimmed, lights the room up more than you might like. For those people who struggle to sleep without a very dark room, this could be a frustrating feature.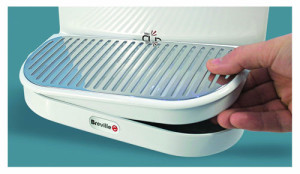 Useful Features
There are some nice additions to the Breville Wake Cup, including a handy flask for milk storage to keep the milk cool overnight so that you can make your drink without having to get up at all. The device also comes with a removable drip tray to prevent spillage and mess, and a cord storage feature that prevents clutter and the risk of tripping on your way out of bed in the morning. There's also a storage space for teabags and for the water jug to add more to the machine, which is a nice touch.
Taste Problems
There are a few issues with the Breville Wake Cup in its actual water heating system that prevent it from being the great product that it could be. While the idea of having a cup of tea in bed in the morning is a lovely one, nobody wants a drink with an unpleasant, chemical-like taste that lingers in the mouth. Sadly, the Breville Wake Cup often produces an odd flavour in the water that is difficult to get rid of even when you boil the water multiple times on first use, as the instructions suggest. You can try rinsing the machine with bio-carbonate of soda, but even then there's sometimes a lingering taste and a strange smell. This flaw might not occur for everyone, but if it does it can really ruin what might have been a great gadget.
If you're lucky enough not to get a Breville Wake Cup that comes with the unpleasant taste that many customers have experienced, you may still find that this problem crops up when the machine needs to be de-scaled. Like many one cup kettles on the market, frequent de-scaling is necessary to keep the device working well and to keep your drink tasting fresh. Just be aware that the Breville Wake Cup will need some maintenance in this sense, but if you love your coffee first thing in the morning, it may be worthwhile.
Customisation
Another less significant but still annoying feature is that you can't customise the device to have it begin boiling the water for your drink before the alarm wakes you, so while Breville promises a cup of tea ready and waiting as you wake, this isn't quite the case. This is certainly a more minor flaw, but one that might frustrate some people who misunderstood the product.
Should You Buy It?
Sadly, this is a good idea that doesn't quite hit the spot. Hopefully Breville will take on board the criticisms its received over this product and produce an update that solves some of these issues, as with a little work it could be a really fun and convenient gadget. It's not cheap, but if these flaws were ironed out then it could definitely be a good investment, especially when you consider the energy saving potential of not heating up full kettles. We'll keep an eye out for an update to the Breville Wake Cup, and see if any progress is made.